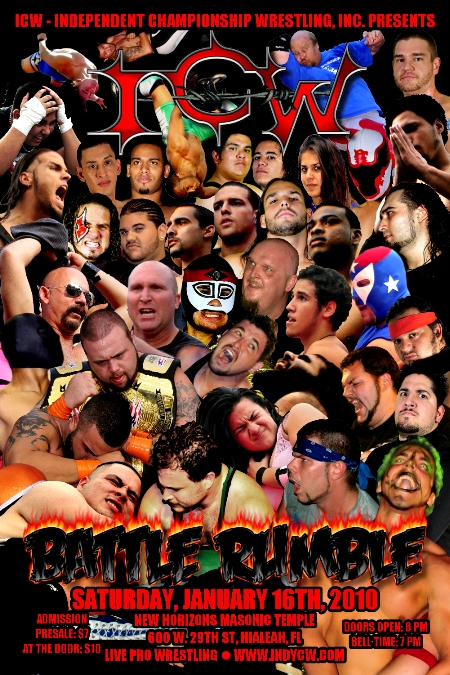 Dude Hate defeated Arson Blaze by disqualification after The Rude Awakening interfered and attacked Dude Hate. Dash Maverick cleared the ring with a chair and then cut a very inspiring promo.
Angel Rose defeated Stud Magnum to become the new ICW© Women's Champion.
Skorpio introduced the 7 Foot Tall Amazon, ISIS
American Outlaw defeated 29 other individuals in the Battle Rumble Match to become # 1 contender for the ICW© Championship
During an in ring promo the J-Biggs walked out of the Rude Awakening
after the revealing for his new manager Danny Denis.
Evan Sky and Sean Phoenix attacked Arson Blaze and joined the Rude Awakening.
Allison Spade (Arson's Sister) cut Arson's hair leaving him bald.
Beast defeated TC Reid to retain the ICW© You Tube Championship
Ernest R. Alexander III defeated J-Dawg Brooks & Mr. Vega in a Triple Threat to become the ICW© Pure X Crown Champion
Joker was disqualified in his Handicap Match against Apoc and the returning Skull Mussolini after Q-ba Libre came in to save Joker.
ICW© Director of Authority Skorpio announced that it will be Joker VS Q-ba Libre for the first time ever at Lucha Fest and that the winner will receive a title match.
The ICW© United States Tag Team Championship Match between The System and The TradeMarX was thrown out after the Rude Awakening interfered and all three tag teams battled even after the locker room cleared to separate them.
Skorpio announced a Triple Threat Tag Team Match for Lucha Fest
Shawn Prime defeated Dash Maverick to retain the ICW© Championship even after interference from J-Biggs
ICW© Owner Richard Gonzorelli has announced that J-Biggs will take on Shawn Prime at Lucha Fest for the ICW© Championship