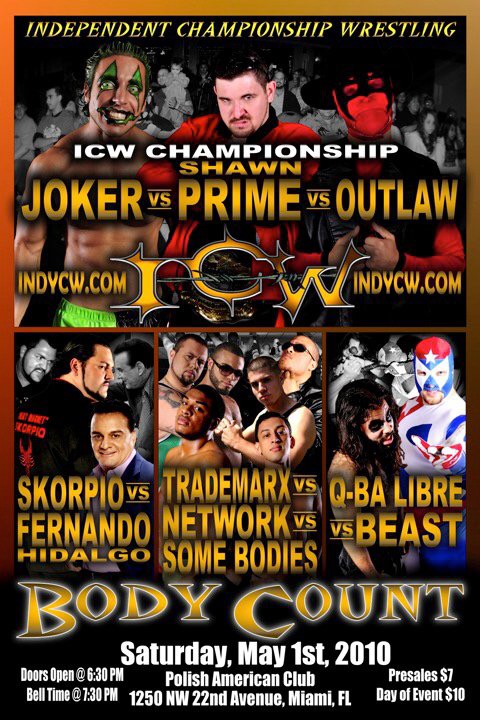 One on One Match
Arson Blaze vs. The Hostile Kid John Richardson
Three on One Handicap Match
Jordan Rayner Defeats Sean Phoenix, Danny Disaster, and Blanco Dragon
Skorpio is injured before show causing the match between Fernando Hidalgo and him to be cancelled. Fernando trash talked Skorpio. Mykal Manix, being loyal to ICW challenged Fernando to defend the reputation of Professional Wrestling.
TV Show Host Fernando Hidalgo Defeats Mykal Manix in an impromptu match.
Joker Talks about his match against Shawn Prime and Outlaw. Prime claims he's acting director in Skorpio's absence. At LUCHA*FEST Joker battled Q-ba Libre for a Title shot and won. Shawn Prime claims it was never specified which title he would get a shot for, and makes a match between Joker and Angel Rose for the Bombshell's Title starting immediately. Stipulation; if either one of them backs out of the match, they are fired.
Joker hesitatingly fights Angel Rose. After the spine-buster, Joker Lays out and pulls Angel Rose in to cover him, giving her the win.

Angel Rose (c) def. Joker
Angel Rose retains the title.
Shawn Prime, comes out yet again and as acting director of Authority, Fires Joker.
YouTube Title Match: Fatal-Four-Way
T.C.Reid (c) defeats K-Kling, Ricky Turbo, and J-Biggs
T.C. Reid Retains the YouTube Championship
After the Match Dash Maverick jumps in the ring and delivers the "Face Full of Awesome" to T.C. during his celebration. Dash proceeds to explain that the fans deserve a better YouTube Champion and who better than him.
Pure X Crown Championship Match
E.R.A. III (c) def. Dude Hate
E.R.A. III retains title.
Fan and former ICW Star Ton (who's had personal heat with E.R.A. for quite some time now) throws brass knuckles in to Dude Hate. Hate uses the knucks and pins E.R.A., but as Ref. Bruce Owens raised Hate's hand, he sees the knucks and re-starts the match. After a swift Superkick, E.R.A. pins Dude Hate to retain his Pure X Title.
ICW U.S. Tag Team Championship Match: Triple Threat Tag Team Match
The TradeMarX (c) def. The System & The Somebodies
After what some are calling the match of the night, The TradeMarX walk away with the Titles firmly in place.
TradeMarX retain.
One-on-One
#1 Contender Beast def. Q-ba Libre
Beast makes Q-ba Tap out. Beast is currently the Number One Contender for the ICW Title at a future ICW Show.
MAIN EVENT for the ICW Title
Shawn Prime (c) vs. Outlaw
Mid-way through the match Outlaw removes his mask to reveal that Outlaw has, in reality, been Joker this whole time. The Crowd was deafening as the big surprise was unveiled. Joker goes on to pin Shawn Prime to regain the ICW Championship.
Joker is the NEW ICW Champion. 
ICW Body Count was Live from the Polish American Club (ICW Arena) in Miami. We'd like to thank our sponsors: America TV, Fernando Hidalgo, and especially Master Sound Productions for making us look so good. ICW Hosted Body Count in front of 300+ fans, and we thank each and every one of you for your support