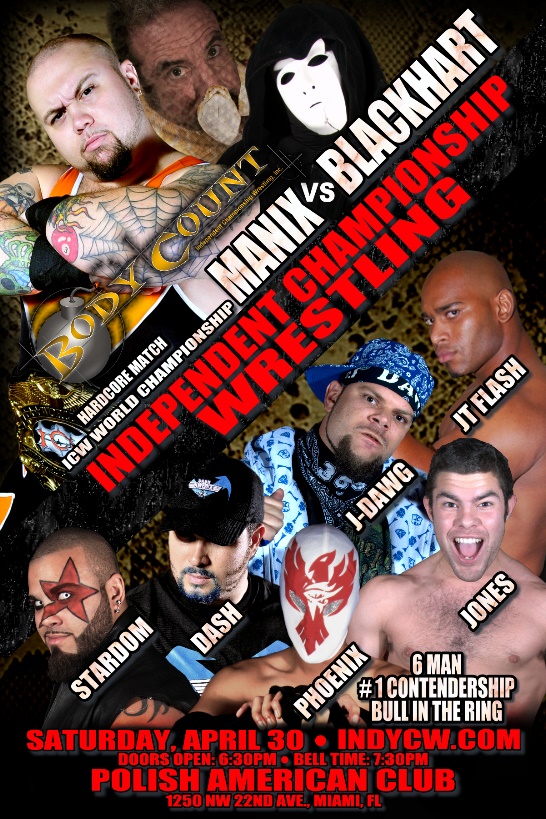 Brian "The Beast" Brody defeated Teddy Khan, & Flex Magnum in a Triple Threat Match in 5 Minutes 10 Seconds
Teddy Khan attacked his partner Clark Banner after the match.
Dash Maverick comes out and talks about later in the night he will make his in ring return. He gets interrupted by Shawn Prime. Prime tells him to shut up and head to the back, that he has a match to worry about.
Nick Genesis attacks Shawn Prime for behind.
Shawn Prime defeats Nick Genesis with the Prime Plex in 6 Minutes
After the Match: Big Daddy Gonzo stripped Shawn Prime of the US Tag Team Championship, as the failed to defend it in over 4 months.
ICW Pure X Crown Tournament Second Round Match:
Angel Rose defeated Tommy Vandal after interference by J-Dawg Brooks at 10 Minutes
ICW Pure X Crown Tournament Second Round Match:
Ernest R. Alexander III (ERA) defeated Jordan Rayner at 8 Minutes 33 Seconds
K5 comes out. They talk about their debut at Lucha*Fest II and how they are in ICW to make an impact. Then K5 left the ring and confronted Rusty Brooks. Mr. Vega slapped Rusty. Rusty extremely angry left the ICW Arena.
ICW Championship
Blackhart VS Mykal Manix did not end up taking place as the Army of Darkness had someone come out dressed like Mykal Manix. Word later came out that Mykal Manix had been attacked Friday Night and was hospitalized. Big Daddy Gonzo came out and confronted Blackhart. And an impromtu match broke out.
Big Daddy Gonzo defeated Blackhart in 1 Minute and 11 Seconds
TECH Squad VS The TradeMarks was scheduled to take place in a regular tag team match.
Big Daddy Gonzo announced that the TradeMarks and TECH Squad would compete in a Best of 5 Series to crown the New ICW US Tag Team Champioship.
Match 1 of the Best of 5
The TradeMarX defeated TECH Squad in 10 Minutes and 58 Seconds
Rusty Brooks made his way back into the building. He called out K5, told them that he came with a friend, as he brought out his bull rope. K5 came out and rushed the ring, one at a time. After Rusty took down the first three, Daniel Modem and Mr. Vega caught Rusty and the five K5 members began the attack on Rusty. Cowboy JR James left the Broadcast Table and headed to ring to help Rusty, but he was cut off and K5 took control quickly. Skorpio came out next and attacked Andrew Dawson but he too was cut off by the rest of the K5 members. When it looks like it was over for Rusty, JR James, and Skorpio, Angel Rose made her way to the ring, and the 4 of them took out K5. Rusty, JR, Skorpio, & Rose all hit their finishes on Arson Blaze, then Skorpio challenged K5 to a 4 on 4 match at Brink of Insanity on May 15th.
Trina Michaels made her way to the ring. She began to birate the ICW fans. She challenge anyone in the back to come out to a match. She said that if she were to win, she would make her opponent eat dog food. If her opponent would win she would get spanked by ringside fans. Calyspo came out.
Calypso defeated Trina Michaels in 1 Minute and 56 Seconds.
After the match and after the spankings Maxx Stardom came out and told Trina Michaels that she has cost him the ICW US Tag Titles, the Pure X Crown Title, and now the ICW Championship. Stardom then fired Trina as his valet.
Jack Zero came out and started talking down the crowd, until the lights at the ICW Arena went out. The fans new what was coming. As the ICW fans began to roar Joker made his return!
Joker defeated Jack Zero in a Non Title Match at 10 Minutes and 10 Seconds
# 1 Contendership
Bull in the Ring
JT Flash defeated Maxx Stardom, Chris Jones, J-Dawg Brooks, Sean Phoenix, & Dash Maverick to become # 1 Contender in 19 Minutes and 1 Second.