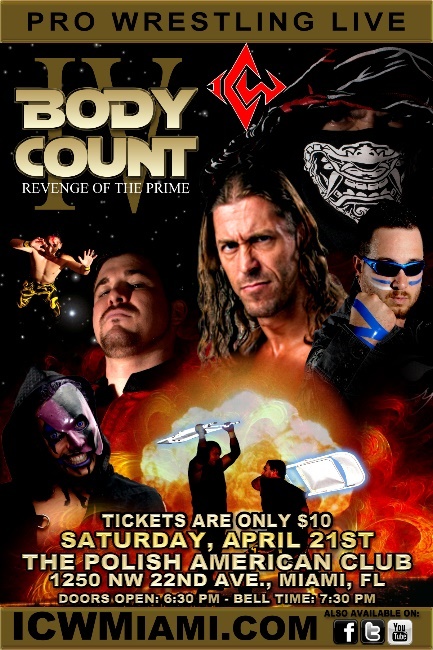 Match 1: Teddy Khan successfully defends his Hard Knocks Title in a No-DQ match against Angel Rose after some help from Alyson Spade.
Promo: Shawn Prime calls out Stevie Richards. Introduces him to the new members of "The Prime Directive" – The TECH Squad, and Richards is outnumbered. Richards lands the first blow, but The Directive outnumber him and injure his arm.
Match 2: Dash Maverick defeats Justin Sain.
Match 3: Tommy Vandal convinces Chuck Aurin to change the FOW title match from a hardcore match to a regular match; Chuck abides. Sean Allen is defeated by Tommy Vandal. After the match Abudadein and Allen hold Aurin hostage until he grants Sean Allen a true Hardcore match for the FOW title in June.  Promo: K-Kling preaches anti-religion. Adrian MarX interrupts with his dancing. The two get into an altercation and Adrian MarX hits K-Kling with the X Marx the Spot.
Match 4: Beast defeated Joey Saint. After the match the two performed a curtain call showing mutual respect as Joey Saint will be taking a year off of wrestling.
Match 5: In the System vs. Youth and Revolt, Daniel Modem and A.D.D. from the now defunct K5 successfully defended their United States Tag Team Titles after using said titles to hit Maxx Stardom as the referee's back was turned.
Match 6: E.R.A. was felled by the defending Pure X Crown champion, Joker. E.R.A. went for a power bomb, Joker reversed into a Hurracanrana and pinned E.R.A. for the victory. After the match E.R.A. presented Joker with the Pure X Crown belt as a sign of respect.
Match 7: The ICW Champion, Shawn Prime vs. Stevie Richards. Richards wins via DQ. T.E.C.H. Squad attacked Richards as he was lining up Shawn for the Stevie Kick. After the match, Stevie was saved by VEGA and Ricky Turbo.