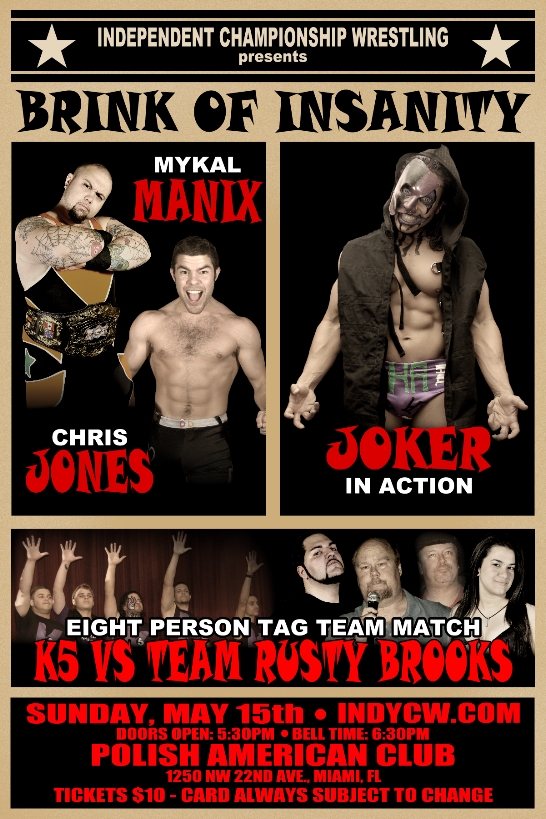 Shawn Prime defeated Teddy Khan
J-Biggs defeated Nick Genesis
Dash Maverick VS Maxx Stardom ended in a No Contest after K5 interfered and attacked both Stardom and Maverick. Angel Rose and ICW Champion Mykal Manix made the save. Afterwards the former Network celebrated with each other, Maxx Stardom didn't want anything to do with it and walked away.
TECH Squad defeated The TradeMarX in Match 2 of the Best of 5 Series to crown new ICW United States Tag Team Champions. TradeMarx and the TECH Squad are tied 1 a piece.
Blackhart defeated Sean Phoenix
Ernest R. Alexander III defeated Jordan Rayner after Bobby Rogers' interference back fired. Bobby and Rayner after the match had words and Rayner left Bobby's side.
K5 defeated Team Rusty Brooks when K5 leader pinned Skorpio after a spear.
Mykal Manix defeated Brian "The Beast" Brody to retain the ICW Championship
Joker won the Battle Royal main event to move on to the finals of the ICW Pure X Crown Championship Tournament. After the match K5 attacked Joker. ERA and Angel Rose (the other two finalists in the tournament) made the save only to be interrupted by Bobby Rogers. Bobby said he was tired of all the joking around and that he needed a new person to at his side. ERA told him to leave that this was Joker, Angel Rose's and his time that they were now in the finals, but before he finished he super kicked Angel Rose in the face, then finished it off with a super kick to Joker. ERA left now under the tutelage of Bobby Rogers.