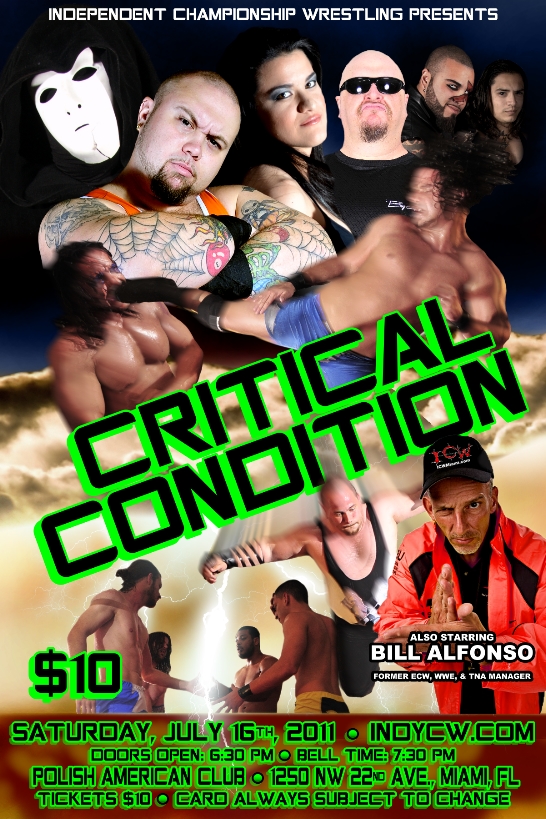 Daniel Modem defeated Teddy Khan and Nacio Baron in a Dark Match
Flex Magnum & Sean Phoenix defeated K5s K-Cling and Arson Blaze after Daniel Modem attempted to interfere and was stopped by Skorpio.
Mr. Vega became the #1 Contender after defeating Angel Rose. He will receive his Championship Match at Tag Team Turmoil.
Jack Zero retained the ICW Hard Knocks Championship after defeated Macho Mark in a Bra and Panties Match.
The TradeMarX tied up the Best of 5 Series for the United States Tag Team Championship after defeating The TECH Squad. After the match the TradeMarX brutally attacks TC Read. The Series is now 2 to 2. The final match to crown new US Tag Team Champions will take place on August 5th at FAME.
Brian "The Beast" Brody defeated J-Dawg Brooks after J-Dawg was hit over the head with the Staff of Darkness. Former ECW, WWE, and TNA manager Bill Alfonso came out and told referee Bruce Michaels everything that happened and the match was restarted.
J-Dawg Brooks defeated Brian "the Beast" Brody. After the match Bill Alfonso asked J-Dawg why he was hanging out with a guy like $tack$ when his father is the Legendary Rusty Brooks, who has trained the majority of South Florida's top talents.Rusty Brooks got in the ring but was confroted by $tack$ who clocked him in the head. The $tack$ picked up the Staff of Darkness and was about to hit Rusty, when J-Dawg pulled it away. J-Dawg then hit $tack$ with it and Rusty hit him with a punch for good measure. J-Dawg Brooks, Rusty Brooks, Bill Alfonso, and Bruce Michaels all held their arms up.
Bill Alfonso, Joker, and Mykal Manix took pictures with all the ICW fans for about 15 minutes.
BlackHart VS Maxx Stardom ended in a Disqualification. After the match Beast and BlackHart held Maxx Stardom down while Abudadein brought out DIABLO (a Black Mamba Snake). Abudadein had the snake bite Stardom in the arm multible times.As Stardom's blood began to trickle down the bite mark the ICW locker room cleared out. ICW Director of Authority Skorpio fired Abudadein, BlackHart, and Beast from competing in ICW ever again. Maxx Stardom was taken to a Trauma Center.
While Joker is helping with Stardom being taken to the hospital, he is jumped from behind by the ICW Pure X Crown Champion Ernest R. Alexander III.
Ernest R. Alexander III defeated Joker to retain the Pure X Crown Championship.
Dash Maverick defeated Jordan Rayner and J-Biggs, now managed by Bill Alfonso, to become the new # 1 Contender for the FOW Championship.
Mykal Manix defeated Big Daddy Gonzo to retain the ICW Championship. The stipulation stated that if Gonzo lost he would retire from wrestling. The ICW locker room cleared out to show appreciation for Big Daddy Richard Gonzorelli who as Skorpio stated, "Took ICW to the Next Level".