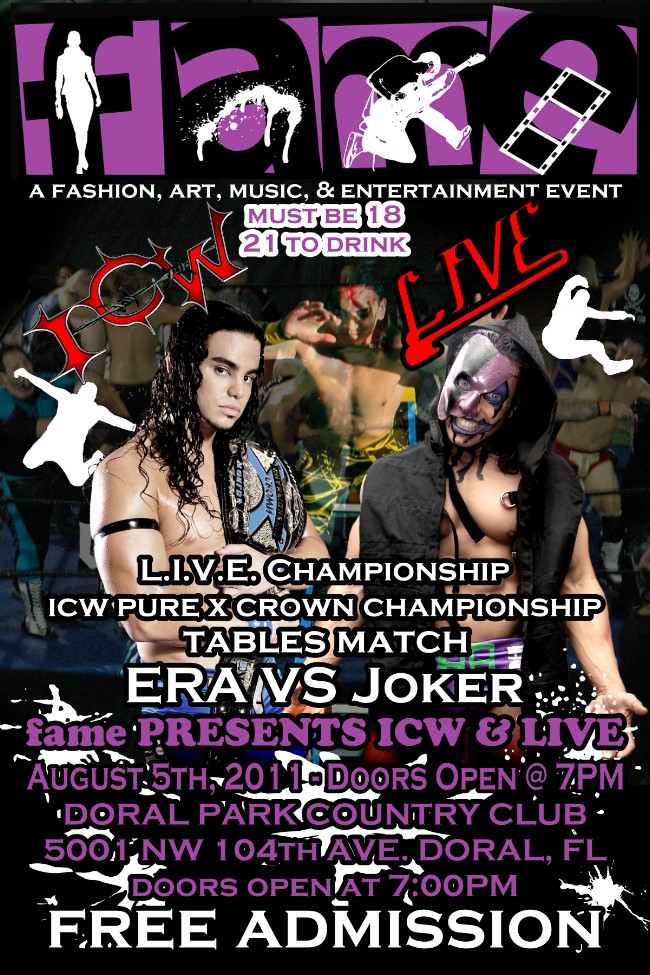 The event opened with a L.I.V.E.P.W. sanctioned match between J-Dawg Brooks VS Brian "the Beast" Brody. Brian Brody hit the Death Roll for the Victory.
Next was an ICW sanctioned 8 Person Tag Team Match. Team Maverick (Dash Maverick, Angel Rose, Skorpio, & the returning Maxx Stardom) defeated Team Biggs (J-Biggs, Teddy Khan, and K5 members Mr. Vega and K-Cling) when Angel Rose hit her Roseton Bomb on Vega.
The next match saw TC Read score the victory on Adrian MarX after hitting the "Here It Is" Driver in a L.I.V.E.P.W. sanctioned match.
The next match was for the ICW Championship. Mykal Manix defended his Championship successfully when he defeated the ICW Hard Knocks Champion Jack Zero with the Package Piledriver.
After the match Maxx Stardom came to the ring and told Manix and all the fans at ringside that he is going to leave wrestling soon, but wants to have one last match; a match against his best friend and fellow member of the System Mykal Manix at Summer Brawl. Mykal Manix shook his hand and the match was made for August 27 at the Polish American Club.
Now it was time for the Main Event of the evening! A Table Match for both the L.I.V.E.P.W. Championship and the ICW Pure X Crown Championship Ernest R. Alexander III (ERA) VS Joker. The end of the match came when ERA went for his Superkick on Joker but Joker ducked and ERA knocked out referee Bruce Owens. Joker then capitalized by hitting the Spinebuster on ERA thru the table, but the referee was still unconscious. Bobby Rogers grabbed the Pure X Crown Championship and clocked Joker for the head with it. Bobby dragged ERA away from the broken table and dragged Joker towards the table. Bobby and ERA then woke referee Bruce Owens who saw Joker lying thru the table and called for the bell. Still your L.I.V.E.P.W. Champion and your ICW Pure X Crown Champion Ernest R. Alexander III.