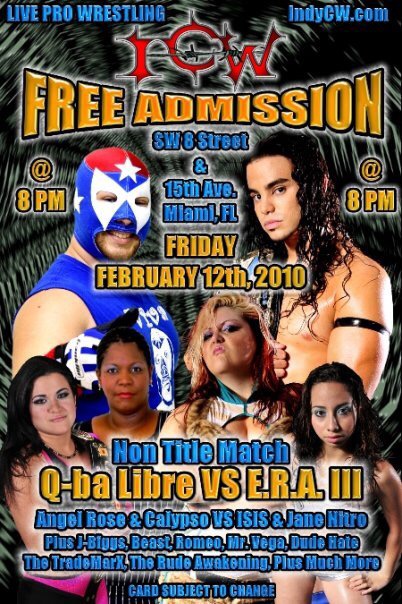 J-Biggs defeated Dash Maverick
Arson Blaze defeated Dude Hate
Nacio Baron defeated Alex Aztec & Vinny Ramaguchi in a Handicap Match
Mykal Manix defeated Mr. Vega
Beast defeated "The Golden Boy" TC Reid to retain the ICW You Tube Championship
Angel Rose and Calypso went to a No Contest after Jane Nitro interfered and hit Bombshells over the head with a chair
The Rude Awakening defeated The TradeMarX in Tag Team Action
Comedian Felix B (Ton) went out and entertained the fans only to be attacked from behind by the ICW© Pure X Crown Champion E.R.A. Q-ba Libre came out to make the save.
Q-ba Libre defeated Ernest R. Alexander III in a Non Title Match after hitting the 305 and the Dale.
Come out and be entertained by some of the best comedian in South Florida this Wednesday as we present CALLE C8MEDY®.