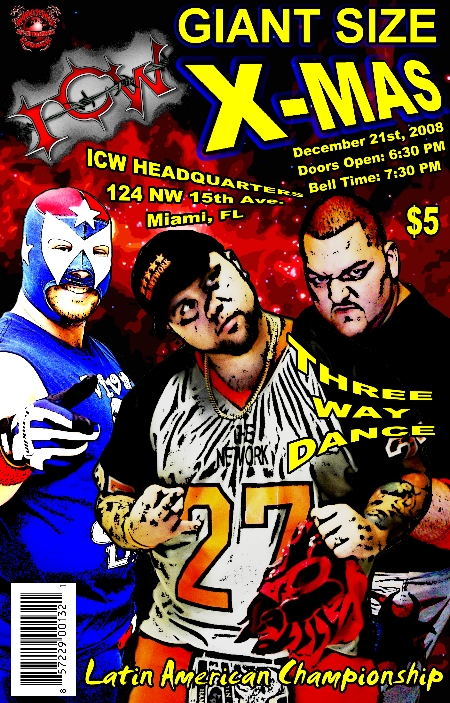 Over 200 fans were in attendance at the ICW Headquarters for Giant Size X-Mas!
Big Daddy Gonzo is announced as the new owner of ICW. Gonzo announced the Legendary Rusty Brooks as the new Director of Authority. Rusty fired Dash Maverick and Joker from their positions of Director of Authority and Commissioner respectfully.
ICW United States Tag Team Championship – 10:01
Midnight Studs captured the gold after JT Flash scored the pinfall on Dade County Collision's Kaotic Romeo.
Dirt Bike Kid Shawn Prime came out a cut an emotional interview, thanking the fans for backing him after everything he did in 2008.
J-Biggs made quick work of Teddy Khan. 3:13
The Dirty White Boys (Scott Passion and Matt Bateman) made their debut by defeating The Photogenix (Dominic Vega and Romano Exchange ST), only after Dominic Vega left the match with Kristy Kash. 9:52
ICW Latin American Championship (Three Way Dance) 12:50
Mykal Manix defended successfully his Latin American Championship against Skorpio and Q-ba Libre, but not after controversy. Skorpio blinded the referee with powder, hit Q-ba Libre with the Rude Awakening Neck Breaker and went for the pinfall. The referee counted the three count, but when the referee cleared his eye, he saw Manix covering Q-ba and the victory went to the Champion.
During intermission ERA was attacked by Hitman Machine who posed over him holding up the ICW Championship.
ICW Women's Championship 7:35
Angel Rose scored the pinfall victory over "The Caribbean Queen" Calypso, after some interference from her Network team mates.
ICW Pure X Crown Championship 9:12
Maxx Stardom defeated J-Dawg Brooks to retain his PXC Championship. Stardom and J-Dawg battled all over the ICW Headquarters. In an interesting turn of events J-Dawg was about to score the pinfall when Santa Claus is Coming to Town starting blaring through the loud speakers. Kris Kringle came out to give gifts to the loyal ICW fans. Kringle destracted J-Dawg by throwing Skorpio's mask at Stardom. Kringle then clocked J-Dawg with a championship title which sent J-Dawg rocking into Stardom's Plasma Crunch. Kringle then took off the wig and it was revealed to be Stardom's tag partner and Network leader Mykal Manix.
BDG Enterprises (Big Daddy Gonzo and Jordan Rayner) scored the victory through disqualification over Dash Maverick and the returning Joker. Dash was told earlier to find himself a partner for his tag team match against BDG Enterprises. In the middle of the match Joker came out and began to wail on BDG and Rayner with chairs which cost him and Dash the disqualification. 5:55
ICW Championship 8:26
Ernest R. Alexander III successfully defended the ICW Championship against Hitman Machine in the Main Event.