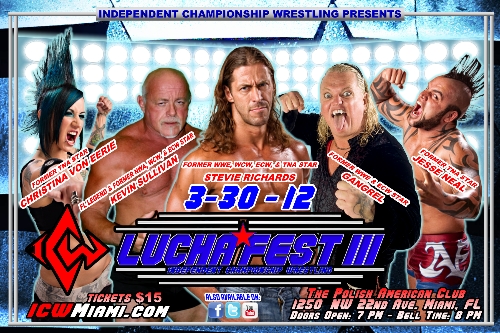 Here are the quick results from ICW's Lucha Fest III
Match 1: Battle Royal for ICW Hard Knocks Championship
Teddy Khan outlasted 14 other men including the former champion Speedy to become the new Hard Knocks Champion.
Match 2: Number One Contenders Match
Dash Maverick pinned VEGA to earn a shot at the ICW Championship.
Match 3: J.B. Cool vs. K-Kling
K-Cling was defeated by J.B. Cool in an impromptu match.
Match 4: Jesse Neal vs. Sean Allen
Jesse Neal was victorious over Sean Allen
Match 5: Pure X Crown Title Match – Tables, Ladders, and Chairs Three-Way
Jack Zero (c) vs. Joker vs. Adrian MarX
Joker frogsplashed both Jack Zero and Adrian Marx through a table to pick up the win and his second Pure X Crown title reign.
Post Match: The lights went out and when they came back up former Pure X Crown Champion E.R.A. was standing in the ring and faced off with Joker.
Match 6: L.I.V.E. Pro-wrestling Championship match
Beastly Brody (c) vs. "The Vampire Warrior" Gangrel
Beast rolled up Gangrel to pick up the win after a hellacious beating at the hands of Snakemaster, Gangrel, Sean Allen and Kevin Sullivan.
Sullivan later went on to say that this was just Beast's initiation into the Army of Darkness.
Match 7: Ladies Match
Angel Rose w/ Golden Sheik vs. Santana Garrett
Angel Rose hit Santana with the Cross-Rose to put another "W" in the Win/Loss column.
Match 8: FOW Championship Match
Tommy Vandal (c) vs. Stevie Richards
The referee counted the pin for what appeared to be a victory for Stevie Richards only to notice that Vandal's foot was on the ropes. The ref restarted the match and Tommy Rolled up Stevie with a hand full of tights for the win.
Match 9: United States Tag Team Championship
Modem and A.D.D. (c) vs. The System
Modem and A.D.D. pulled off a miraculous win against the newly reformed System.
Match 10: ICW Heavyweight Championship – IRON MAN MATCH
J-Biggs (c) vs. Shawn Prime
After 30 hard fought minutes the total pin/submission count for both men was J-Biggs 4 – Shawn Prime 5
The Winner and NEW ICW Heavyweight Champion – SHAWN PRIME!!!
This is Prime's 3rd reign as Heavyweight Champion and he's tied with Joker for most reigns in ICW.
Post Match: Shawn Prime mentions that the Number one contender, Dash Maverick, may be out with a knee injury and possibly wont compete at the next show. He then places a challenge to anyone in the back with the stones to face him. Stevie Richards confronts him with a Stevie Kick to the face, and sets up a challenge with three simple words, "I'm Taking Over!"
For all info on ICW including upcoming shows, please visit ICWmiami.com