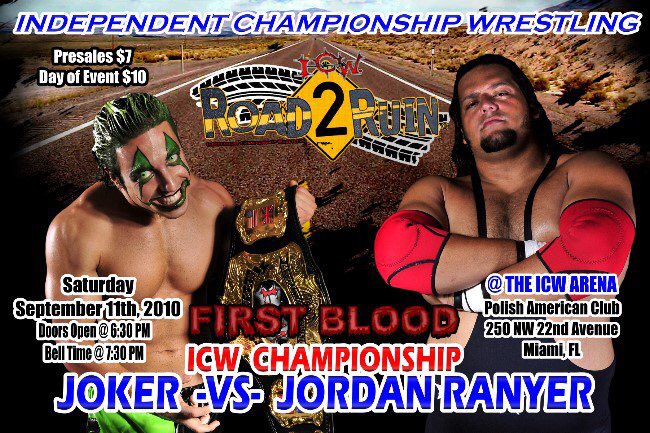 Dark Matches:
Clark Banner defeated Ricky Turbo
John Richardson defeated Arson Blaze
K-Cling defeated Andrew Grind
ICW Road 2 Ruin:
ICW Director of Authority Skorpio welcomed everybody to the fifth installment of Road 2 Ruin! He talked about 9/11 and all of the victims that lost their lives. Skorpio introduced Anthony Armas who played Taps and then Maret Escarment who sang America the Beautiful. Skorpio then welcomed the ICW Champion Joker.
Joker came out with Nina Ink. Joker told the crowd that he asked the ICW Board of Directors for Nina Ink to get a shot at the Women's Championship tonight and the had accepted the offer and the ICW fans would witness Calypso VS Nina Ink later in the night. While Joker was speaking out of nowhere Shawn Prime and J-Biggs attacked Joker.
Prime & Biggs called the System out and Mykal Manix made his way to the ring carrying both of the ICW US Tag Team Titles. Manix said that he hasn't spoken to his tag team partner Maxx Stardom for over a week. Film Star and Internet Sensation Trina Michaels came out and said that Stardom has more things to worry about than just defending the US Tag Titles, that Stardom is a dual champion and has been partying with a few of her friends on South Beach for most of the week.
Manix says he would put the belts on the line in a Handicap Match right there and then.
J-Biggs and Shawn Prime hit a devastating German Suplex Super Kick combo on Mykal Manix which brought out The Trade MarX, then came the East Coast Ridaz, then out came Evan Sky and Sean Phoenix. All of a sudden there was a 5 team melee going on in the ring. Referees and wrestlers went to the ring to stop the brawl. Skorpio and ICW Owner Big Daddy Gonzo demanded that the fight stop or everyone would be fired. Skorpio announced a 5 Team Gauntlet Match.
Calypso defeated Nina Ink to retain the ICW Women's Championship
Backstage Interviewer Marcy Perez spoke about Jack Zero receiving his contract in ICW a few months back but how he still hasn't garnered the respect from the wrestlers or the fans. Jack Zero came out said that he was tired about people talking about Joker and The System that it was time for Jack Zero to make a name for himself. Zero then grabbed Marcy by the next and out came Ernest R. Alexander III for the save.
Ernest R. Alexander III defeated Jack Zero via Pinfall.
Johnny Impulse defeated Dash Maverick to capture the ICW You Tube Championship until Bruce Michaels (ICW's Senior Referee) came out and told Referee Chuck Aurin that Dash Maverick had his foot on the ropes. Bruce Michaels restarted the match.
Dash Maverick defeated Johnny Impulse to retain the ICW You Tube Championship. ICW Director of Authority Skorpio told Dash that at Challenge of Championship he would have to defend his title in a 6 Man Bull in the Ring Match against Johnny Impulse, K-Cling, John Richardson, Clark Banner, & Ricky Turbo.
Skorpio then had the Best Sign Contest, one winner received two tickets to the next show.
The East Coast Ridaz, TradeMarX, and the team of Evan Sky & Sean Phoenix came out from almost every part of the ICW Arena fighting all over the place until a Triple Threat Match was announced.
The East Coast Ridaz defeated The TradeMarX and Sky & Phoenix.
TC Reid defeated Brian "The Beast" Brody via pinfall. Beast attacked TC Reid after the match until ERA came out to help TC Reid. Big Daddy Gonzo announced a Triple Threat Match for Challenge of Champions on October 23rd.
Jordan Rayner busted an injured Joker with a spike to the forehead to become the new ICW Champion.
ICW Owner Big Daddy Gonzo left the announce booth and confronted Bobby Rogers. Gonzo said that the ICW crowd will not leave tonight with an ending like that. Gonzo says that Rayner must defend his title right now. Roger's asked if he could pick the opponent. Gonzo said sure. Roger's announced Danny Disaster to be the opponent.
Jordan Rayner defeated Danny Disaster to retain the ICW Championship in less than 1 Minute.
Gonzo again said that Rayner would have to defend the ICW Championship again. Roger's again picked the opponent, this time it was Ricky Turbo.
Jordan Rayner defeated Ricky Turbo to retain the ICW Championship in less than 30 seconds.
Gonzo once again said that Rayner must defend the ICW Championship one more time, but that this time he was choosing Rayner's opponent. Big Daddy Gonzo said that Jordan Rayner would have to take on a man who has never been a World Champion but is the current ICW US Tag Team Champion Mykal Manix.
Mykal Manix defeated Jordan Rayner by Count Out, Jordan Rayner retains due to the rule that the titles can't change hand on a count out or disqualification.
Gonzo confronted Rayner. Jordan got back in the ring and Manix rolled him up and the referee counted to three.
ICW Director of Authority Skorpio then came out and told Gonzo that, Manix did win, but by count out, that Jordan Rayner is still the ICW Champion. Skorpio then turned his attention on Manix and told him that he will feel a Rude Awakening tonight. Shawn Prime then attacked the man who he has never beat before Mykal Manix from behind. It seems like Skorpio has now rejuvinated the Rude Awakening with new members. The Rude Awakening now seems to be Jordan Rayner, Bobby Rogers, Shawn Prime, J-Biggs, Alyson Spade, and Skorpio.
Big Daddy Gonzo then got in the ring to help Manix and together they cleared the ring. Skorpio asked Gonzo to put up or shut up and take on Jordan Rayner for the ICW Championship at Challenge of Champions.