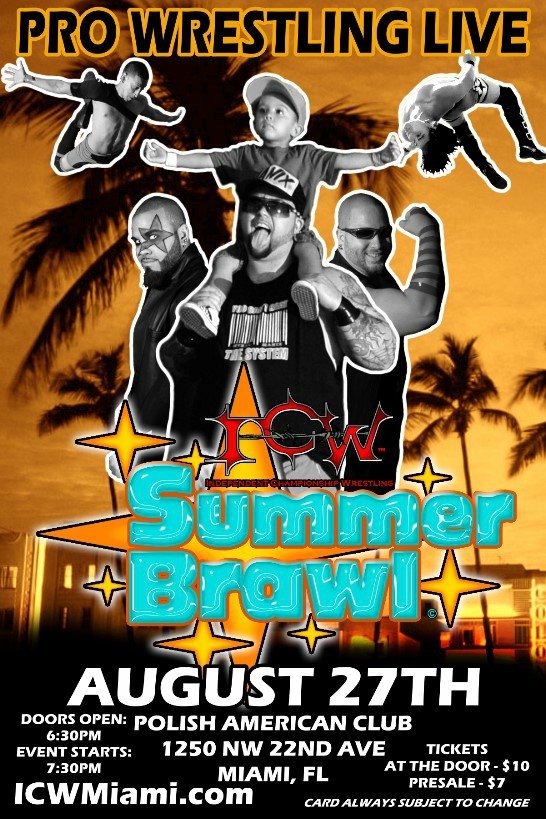 SummeBrawl opened with Juan Turros from "Suénalo" playing the Star Spangled Banner on his Saxophone.
Maxx Stardom came out and gave a very heart warming speech about his family, fans, and wrestling overall. He explained why he was retiring and that he wanted his brother Mykal Manix in the other side of the ring for it. Manix came out, both competitors reminded the fans that the main event would be for the ICW Championship and Maxx Stardom's final match in ICW.
First match of the night was Ernest R. Alexander III retaining the ICW Pure X Crown Championship after pinning Angel Rose in a Fatal Four Way which also involved VEGA and Joker.
J-Biggs defeated Jordan Rayner with a moonsault off the top rope..
Skorpio, Khan, Phoenix, and Macho Mark defeated K5 after Skorpio hit the Depolarizer on K-Cling.
After the match E.R.A. III interrupted the post match celebration when he got in Skorpio's face. He said that he was tired of curtain jerking, that he should be in the Main Events. Skorpio told him that if he wants to come out here and interrupt him, that they would settle it in the ring next month at Road 2 Ruin. E.R.A. III will have to defend the Pure X Crown Champion in a Bull in the Ring against Skorpio, Joker, Angel Rose, Jordan Rayner, and Dash Maverick.
After E.R.A. left VEGA slid into the ring and Speared Skorpio and then Alyson Spade. Arson Blaze, Spade's brother and member of K5 which VEGA leads, got in VEGA's face. Asked him how could he do that. That Spade his his sister, then pushed VEGA. VEGA came back with a Spear.
J-Dawg Brooks defeated Nacio Baron. Nacio and $tack$ attacked J-Dawg after the match.
T.E.C.H. Squad defeated The TradeMarX in the final match of the Best of 5 Series to become the New ICW United States Tag Team Champions.
Jack Zero defeated Flex Magnum to retain the ICW Hard Knocks Championship.
The FOW Championship Match between Champion Tommy Vandal VS Challenger Dash Maverick ended in a No Contest after Johnny Vandal, Seth Gregg, and Fabulous Frank interrupted the match. Johnny Vandal attacked his brother Tommy and stole the FOW Championship.
The ICW Championship Match never took place as Maxx Stardom was attacked at the entrance way by former ICW stars Abudadein, Blackhart, and Brian "the Beast" Brody. The ICW locker room cleared out and threw the AOD out of the building.
As Stardom was taken to the back K5's music hit and out came Vega for the third time. VEGA challenged Manix for the ICW Championship Manix accepted and an impromptu ICW Championship Match began. VEGA defeated Mykal Manix to end his eight month title reign.
VEGA is the NEW ICW Champion.