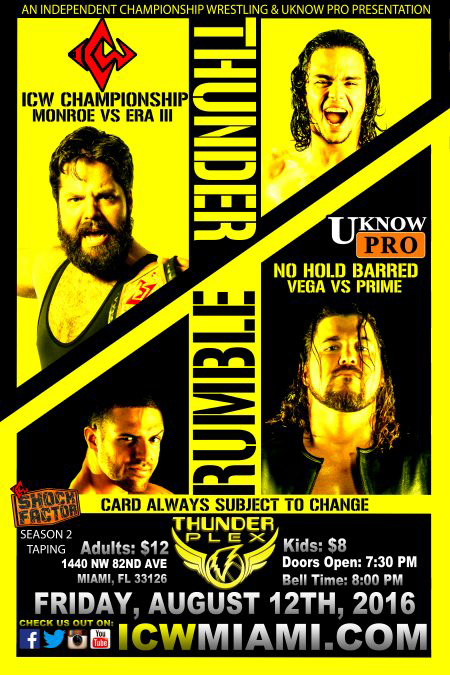 Julian Kelevra retained the ICW Pure X Crown Championship after defeating Alex Todd, Dude Hate, & Skull Mussolini.
The System retained the ICW United States Tag Team Championships after defeating J-Dawg Brooks & Madd Dawg the New Blood Rizing.
Q-ba Libre was victorious in his comeback match against John Beaver. After the match, Movement 726 made their way to the ring. They attempted to attack Q-ba Libre & referee Teddy Khan. Libre & Khan together were able to take out their opposition.
4-time ICW Champion Shawn Prime took out former WWE Superstar Gangrel with the Prime Plex.
Angel Rose defeated the debuting Jon Cruz from the LWO. All fans in attendance were claiming this was the show stealing match of the night. Some even said it was the best match they've ever seen live.
Mike Monroe defeated Ernest R. Alexander III via submission to retain the ICW Championship.
Angel Rose was victorious in the 20 Person Battle Rumble. She will now face ICW Champion Mike Monroe at LuchaFest IV.
| Order of Entry | Eliminated By |
| --- | --- |
| Maxx Stardom | Shawn Prime |
| Shawn Prime | Angel Rose |
| Madd Dawg | Shawn Prime |
| Julian Kelevra | Mykal Manix |
| Nacio Baron | Sasso Rivera |
| John Beaver | Angel Rose |
| Mykal Manix | Aron Agony |
| Evan Sky | Sasso Rivera |
| Adrian MarX | Angel Rose |
| Sasso Rivera | Angel Rose |
| Teddy Khan | Shawn Prime |
| Angel Rose | WINNER |
| Alex Todd | Mykal Manix |
| Q-ba Libre | Shawn Prime |
| Aron Agony | Shawn Prime |
| Skull Mussolini | Ernest R. Alexander III |
| Ernest R. Alexander III | Aron Agony |
| Speedy | Q-ba Libre |
| Dude Hate | Ernest R. Alexander III |
| Joker | Self |