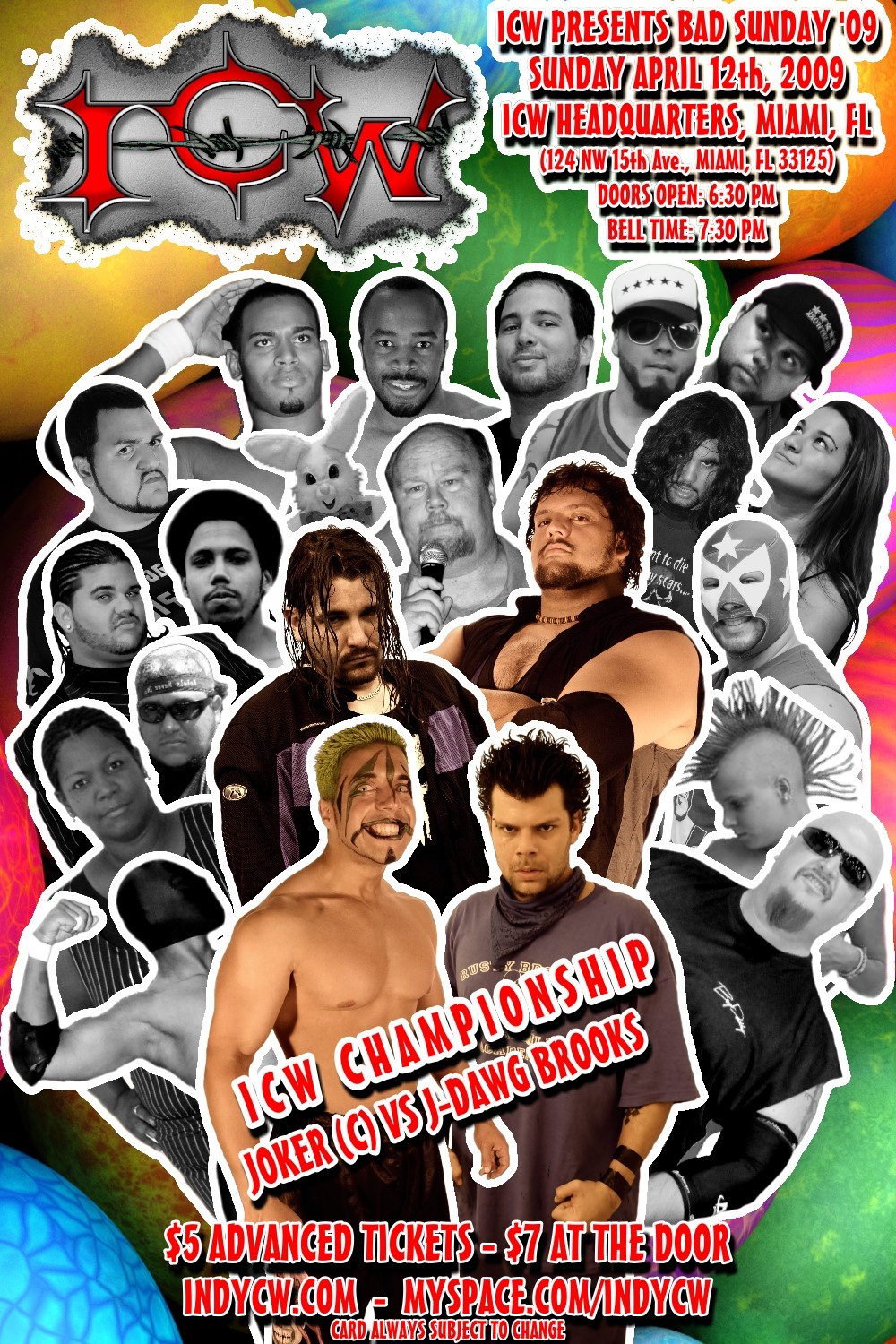 Over 125 fans joined ICW back at the ICW Headquarters for Bunnies & Bodyslams '09!
Dark March
Johnny Two Times defeated MKO
J-Dawg Brooks made his way with the ICW Championship and two nurses in scrubs.
Brooks asked Joker to make his way to the ring, Joker's music hit, but no one came out.
J-Dawg told the nurse to go to the back and get Joker. The two nurses head to the back.
J-Dawg waited in the ring until one of the nurses came flying out from the backstage area.
The second nurse stumbled out to the ring, visibly scared. J-Dawg furious demands that the nurse gets up and bring Joker to the ring. The nurse eventually got back on his feet and hit J-Dawg Brooks with a Spinebuster. The nurse unmasked and it was Joker!
Joker reclaimed his Championship which he calls Champie.
Intergender Match
Calypso defeated Garbage Mann w/ El Electrico
Q-ba Libre defeated Hitman Machine
Intergender Match
Angel Rose defeated El Electrico
Big Daddy Gonzo defeated Kevin Cling
Troy Taylor defeated Beast
Dirt Bike Kid defeated Jordan Rayner
5 Minute Match
Dash Maverick defeated Flex Magnum
after ICW Director of Authority Rusty Brooks restarted the match
Mutilator defeated J-Biggs
ICW Latin American Championship
Skorpio defeated Dominic Vega
ICW United States Tag Team Championship
The Network defeated the Midnight Studs to become the NEW ICW United States Tag Team Champions
ICW Championship
Joker defeated J-Dawg Brooks
During Joker's post match celebration a crowd member attacked the ICW Champion. Joker was rolled into the ring by the fan. The fan was wearing a hoodie and dark sunglasses. He began to remove his head gear, when the crowd realized that the fan was actually former ICW Champion Ernest R. Alexander III. Rusty Brooks came out and announced that at the next event it would be ICW Champion Joker defended his title against the man who was never defeated for his championship ERA!