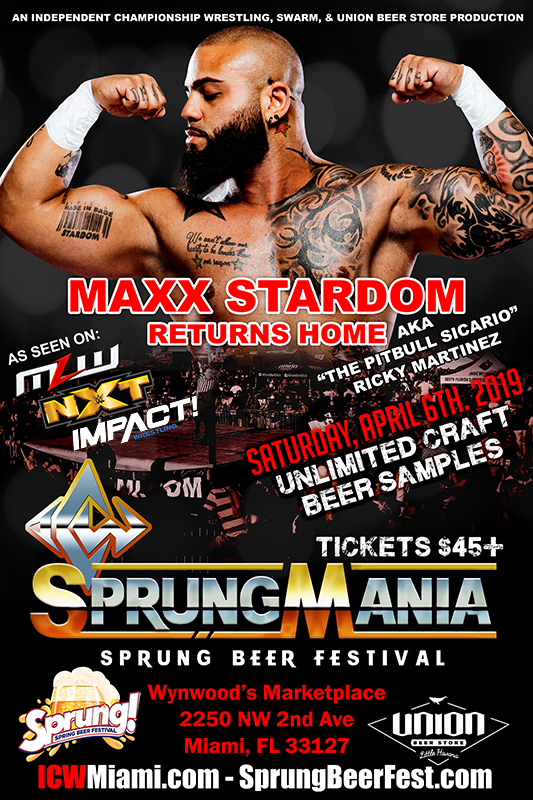 Two days after taking on his sister's team at Impact Wrestling's United We Stand, Maxx Stardom returns to ICW. Maxx Stardom is a 4-Time ICW United States Tag Team Champion and 2-Time ICW Pure X Crown Champion. After appearing on WWE's NXT program as enhancement talent, Stardom received an opportunity to join MLW in 2018. By the end of that year, he signed the dotted line and became a contracted wrestler of the MLW brand and a member of their heel stable Promociones Dorado. Stardom now going by his real name, Ricky Martinez along with stablemates Salina de la Renta, La Parka, Hijo de la Parka, and MLW World Champion Low Ki have been one of the hottest angles in the promotion's history.
Now Maxx Stardom returns home at ICW's Sprungmania. Stardom will battle former ICW Pure X Crown Champion Beast in the Main Event.
ICW SPRUNGMANIA Line Up:
MAIN EVENT
Maxx Stardom aka Ricky Martinez (as seen on MLW) VS Beast
ICW PURE X CROWN CHAMPIONSHIP
Alex Todd (Champion) VS TC Read
ICW UNITED STATES TAG TEAM CHAMPIONSHIP
TAG TEAM GAUNTLET
The Guadalupe Bros VS Task Force
After the first tag team eliminated another tag team will enter the Gauntlet. If the Champions get pinned, the team that defeats them will become the new champions. 
Other tag teams announced:
M726
Dungeon Runners
ICW WOMEN'S CHAMPIONSHIP
DOUBLE JEOPARDY*
Anna Diaz VS KiLynn King 
Rocky Radley VS Rosalie "the Makeup Queen"
*The winners of both match will compete against each other until a new champion is crowned.
OPEN CHALLENGE
The 6'9″ "Estrella de la Revolucion" Sasso Rivera issues an Open Challenge
ALSO IN ACTION:
Former ICW Champions: – Mykal Manix and Dash "Q-ba Libre" Maverick
Former Pure X Crown Champions – Julian Kelevra
Former FOW Champion – Aron Agony
Former World's Intergender Champion – Stud Magnum
Championship Wrestling from Florida's – Snakemaster Abudadein