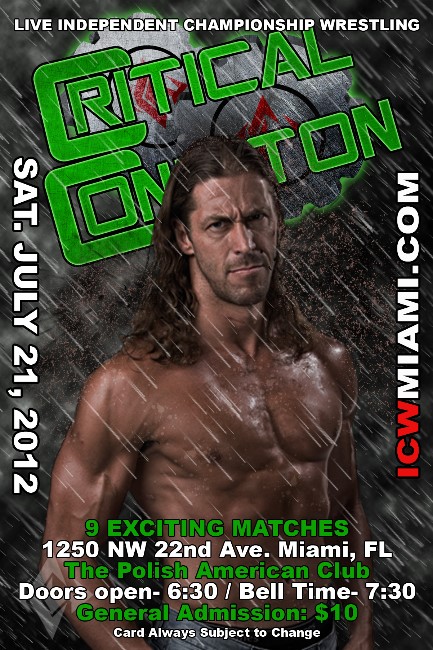 Match 1: Aron Agony defeated 12 other wrestlers to become the # 1 contender for the FOW Championship after eliminating Sean Allen with a Hurricanrana.
Match 2: The Battle of the Bulls between Jordan Rayner & J-Biggs went to a No Contest after Sean Allen interfered.
Sean Allen called out the ICW Roster saying it starts with J-Biggs at the 4th Annual SummerBrawl
Match 3: Beastly Brody defeated Tommy Vandal by count out. Vandal retained the FOW Championship
After the Match: Tommy Vandal began to make his want backstage when he was stopped by Sean Allen. Vandal backed up into the ring. Aron Agony (the former Justin Sain) was waiting for him.
Match 4: Aron Agony defeated Tommy Vandal after hitting two Shooting Star Presses. Referee Chuck Aurin was taken out by Bobby Rogers. Chuck Aurin's son Mike Aurin counted the 3 count.
Match 5: K-Cling made quick work of Adrian MarX.
After the Match: K-Cling continued to attack Adrian MarX until the legendary Rusty Brooks interrupted him by saying that this is not how K-Cling was taught. That they are going to have to put difference aside at Summer Brawl because they will have to team with each other in a Fatal Four Way Tag Team #1 Contendership Match.
Promo: Arson Blaze spoke about winning the ICW Hard Knocks Championship at No Boundaries. He said that he wants to prove himself and how everyone that he will be a great champion. His first act as champion is to make the Hard Knocks Championship 24/7. While he was speaking he was attacked from behind by former ICW star Teddy Khan. Teddy Khan was hauled arrested on the spot by undercover police. As Khan is being taken out, J-Dawg Brooks' music hits and he makes his return to ICW.
Match 6: J-Dawg Brooks defeated an already knocked out Arson Blaze to become the new ICW Hard Knocks Champion.
Match 7: The System defeated the Sin City Sex Bombs in what many are calling the match of the night!
Match 8: Dash Maverick made Ernest R. Alexander III submit to retain the ICW Championship.
Match 9: Stevie Richards and Joker's match went to a No Contest after interference by ICW Champion Dash Maverick and Beastly Brody