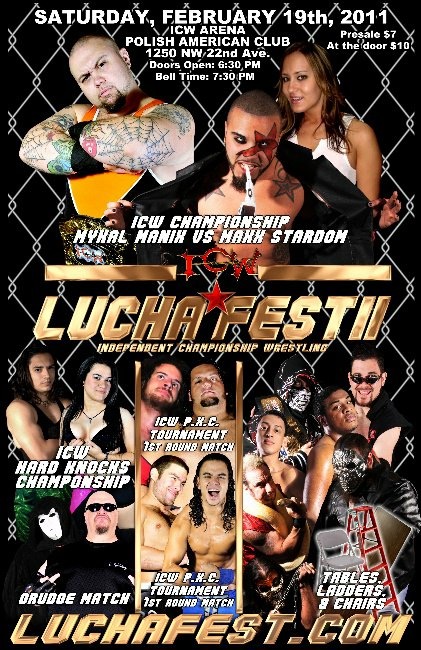 Rude Awakening members Bobby Rogers and Jordan Rayner open up Lucha*Fest II blaming everybody for Rayner's loss to Mykal Manix at the Battle Rumble. Rogers put most of the blame on ICW Director of Authority and leader of the Rude Awakening, Skorpio. Skorpio came out and said that the blame lies on Jordan Rayner who didn't kick out to Mykal Manix. Rayner attempts to enter the ring when Skorpio tells him that there is a locker room full of people ready to kick his behind all over Miami. A few of ICW's top stars come out to back up Skorpio's statements. Bobby Rogers pulls Rayner away who is reluctant to leave and wants to fight all of them. Rayner and Rogers finally make their way backstage. Skorpio welcomes everyone to Lucha*Fest II.
6 Man Tag Team Match
No Holds Barred
Army of Darkness w/ Abudadein defeated The TradeMarX & Big Daddy Gonzo
ICW Hard Knocks Championship
Zero Rules Match
Jack Zero defeated Angel Rose
Joker challenged Jack Zero to a Non Title Match at Body Count. Joker RETURNS APRIL 30TH!
ICW Pure X Crown Tournament First Round Match:
Jordan Rayner defeated TC Reid
After the match the T.E.C.H. Squad was formed between TC Reid and Mike Monroe
ICW Pure X Crown Tournament First Round Match:
Ernest R. Alexander III defeated Chris Jones
Mr. Vega, Vinny Ramaguchi, Arson Blaze, Daniel Modem, and Andrew D. Dawson came out and attacked ERA. The five man ground declared themselves to be K5!
Sean Phoenix talks about eliminating Calypso single handedly at the Battle Rumble. Calypso came from behind and an impromptu match began.
"The Son of RA" Sean Phoenix defeated Calypso
ICW Pure X Crown Tournament First Round Match:
Tommy Vandal defeated J-Dawg Brooks & Flex Magnum
Dash Maverick announces being cleared by the doctors to return to the ring. John Richardson came out and challenged Dash Maverick to a match right there and then. Dash accepted.
Dash Maverick defeated John Richardson
ICW Pure X Crown Tournament First Round Match:
Angel Rose defeated J-Biggs
After the match J-Biggs confronted Alyson Spade which brought out the Director of Authority Skorpio. Skorpio back in his old school wrestling gear, hit J-Biggs with the Depolarizer. Skorpio called Angel Rose back to the ring. All the ICW fans gave Angel Rose a standing ovation, until K5 interrupted. Skorpio and Rose took out the first to K5 members to enter the ring, but the other 3 members took Skorpio, Rose, & Spade down. K5 showed they were a force to be reckoned with.
ICW Championship
Mykal Manix defeated Maxx Stardom
During Manix's post match celebration all the light at the ICW Arena turned off, a chair shot was heard, the lights came back on and the Blackhart and Abudadein had put their Snake on Maxx Stardom. Abudadein seemed to be in shock of who was laying in the ring. Mykal Manix stood tall on the stage and told Blackhart if he wants a show at the ICW Championship then he's got one at Body Count in Hardcore Rules!