Pre show: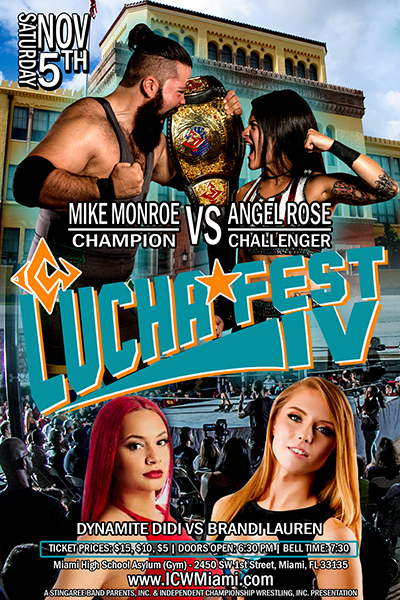 Nick Nero defeated Alex Aztec
After the match Nick Nero sat at ringside to watch the rest of the nights action.
Dude Hate defeated Skull Mussolini, J-Dawg Brooks, & Alex Todd to become # 1 Contender for the ICW Pure X Crown Champion.
LuchaFest IV:
The System defeated The Guadalupe Bros to retain the ICW US Tag Team Championship after a Splash Mountain
After the Match: System's celebration is cut short by Eduardo Rocca and the M726. Elias Vega and Milton Cienfuegos the newest members of M726 attacked Manix and Stardom from behind. All of M726 attack Manix with a chair taking him out of action. Stardom makes his way back in the ring and M726 bolts out of the ring
Anthony Jannazzo defeated Ace Mayham to retain the PWF Universal Championship
#Bootymania Dynamite Didi defeated Brandi Lauren w/ Stud Magnum
The team of Dash "Qba Libre" Maverick, Teddy Khan, Barrington Hughes, & Maxx Stardom defeated M726
Julian Kelevra defeated ERA to retain the ICW Pure X Crown Championship
After the match Nick Nero attacked Julian Kelevra. ERA attempted to help Kelevra, but he was stopped by Dude Hate. ERA, Nick Nero, and Dude Hate brawled to the outside. Kelevra did a suicide to the outside. Kelevra stood tall holding his Pure X Crown Championship
The scheduled #1 Contendership match between Shawn Prime & Stevie Richards turned into a Triple Threat Match when The Vampire Warrior" Gangrel w/ the Snakemaster Abudadein showed up out of nowhere. Gangrel defeated Prime and Richards to become the new #1 Contender for ICW's Championship
In the main event Angel Rose made history when she defeated Mike Monroe, the longest reigning ICW Champion in history, to become the new ICW Champion.
After the match: the locker room cleared out as the fans and wrestlers all have her a standing ovation with not a dry eye in the house.