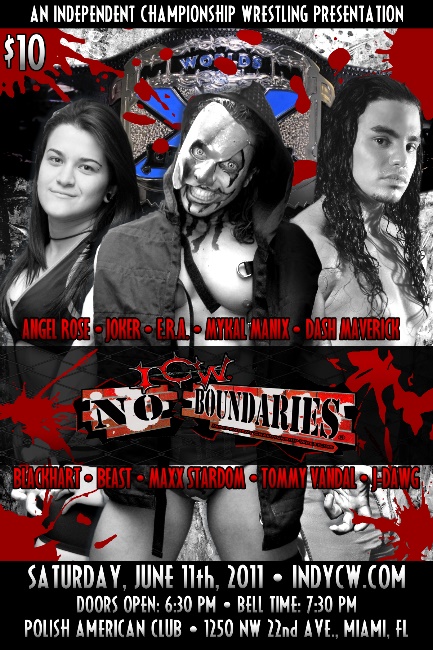 Joker signed autographs and took pictures before the show, until ERA dressed as a fan super kicked Joker. Bobby Rogers then covered Joker's mouth with Cloroform. ERA and Rogers then handcuffed Joker and dragged him to the backstage area.
The team of Flex Magnum, Skorpio, Sean Phoenix, and Nacio Baron defeated K5 in 6 Minutes and 24 Seconds after interference from Vinny Ramaguchi ended up costing his team the match. K5 attacked Vinny Ramaguchi after the match and kicked him out of the faction.
J-Biggs made his way down to the ramp and made quick work of the already downed Vinny Ramaguchi. J-Biggs defeated the former K5 member in 3 Minutes and 40 Seconds with the Barry White Driver.
Dash Maverick VS Jordan Rayner ended in a No Contest after Shawn Prime and J-Biggs interrupted the Match. Rayner ended up standing in one corner as the Rude Awakening attacked Dash Maverick. Rayner had enough and drop kicked Prime out of the ring, then threw J-Biggs to the outside. Dash Maverick challenged Shawn Prime and J-Biggs to a tag team match at Critical Condition.
Jack Zero defeated K-Cling in a grueling Hard Knocks Championship Match in 10 Minutes annd 40 Seconds. Weapons of all kids were used, including shovels, ladders, tables, fire extingushers, & thumbtacks.
After the match K5 came out and offered Jack Zero entrance into their stable, Jack accepted only to be attacked by K5 and their newest member K-Cling. K5 left Jack Zero laying on the floor and out came the Rainbow Express.
Garbage Mann and El Electrico came out and challenged Jack Zero for Critical Condition. Garbage Mann told Jack their third member Macho Mark was going to be at the next event to challenge Jack Zero in the first ever ICW Hard Knocks Championship Bra and Panties Match. Rainbow Express then went to dance with the ringside audience.
Mykal Manix came out to talk about Maxx Stardom, he wished the all the ICW please pray for the well being of his tag team partner, who has been hospitalized since Thursday after he was bitten by a black cobra that had snuck into his gym bag.
T.E.C.H. Squad defeated TradeMarX in 10 Minutes and 42 Seconds. T.E.C.H. now leads 2 to 1 in the Best of 5 Series to crown the New ICW United States Tag Team Champions. After the match T.E.C.H. offered to shake hands with the TradeMarX as they have done in the last two bouts, but The TradeMarX walked away.
Big Daddy Gonzo defeated Shawn Prime to become the new # 1 Contender in 5 Minutes and 48 Seconds.
Tommy Vandal defeated J-Dawg Brooks in 10 Minutes and 16 Seconds after a distraction of the referee from J-Dawg's Manager $tack$ back fired.
The Army of Darkness (Blackhart and Beast) were defeated by Mykal Manix and Big Daddy Gonzo in 8 Minutes and 50 seconds. Big Daddy Gonzo came into save Manix after the whole match started as a Handicap Match.
After the Match Big Daddy Gonzo asked Mykal Manix for a shot at the ICW Championship at Critical Condtion. He told Manix that he has never been able to hold gold in ICW, actually has never even received a shot at a championship…
Ernest R. Alexander III defeated Angel Rose & Joker in 13 Minutes and 6 Seconds to become the new ICW Pure X Crown Champion.