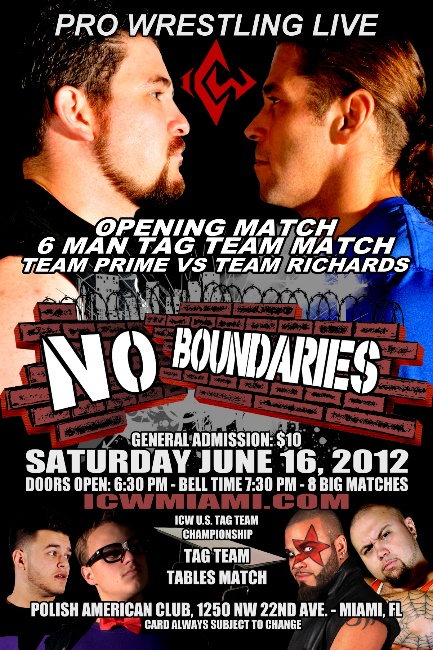 Pre-Show Match: Jordan Rayner defeated Sean Phoenix
ICW No Boundaries
Match 1: Team Richards defeats Team Prime
After the match: Shawn Prime challenges anyone in the back to a championship match. Dash Maverick calls him out on the challenge. Prime accepts.
Match 2: Dash Maverick defeats Shawn Prime to become the new ICW Champion.
Match 3: Arson Blaze wins the Six Person Bull in the Ring to become the new ICW Hard Knocks Champion.
Match 4: Tommy Vandal defeats Sean Allen to retain the FOW Championship.
Match 5: The System defeated Youth and Revolt for the ICW United States Tag Team Championship in a tables match.
Match 6: Joker defeated Brian "The Beast" Brody to retain the ICW Pure X Crown Championship.
Match 7: Dash Maverick defeated J-Biggs and ERA in a Triple Threat Match to retain the ICW Championship.