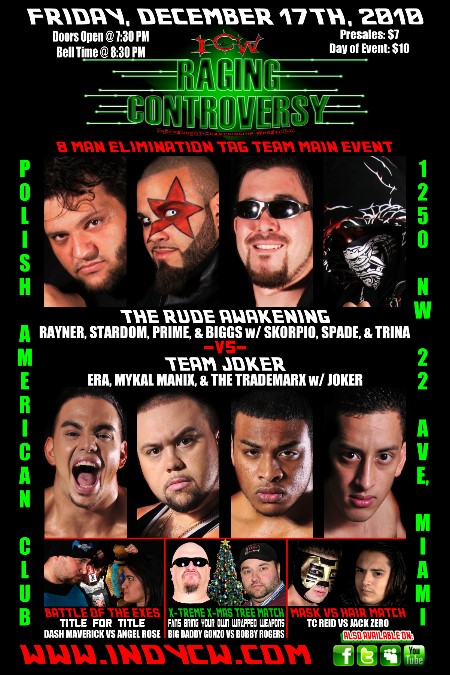 Mr. Vega defeated Vinny Ramaguchi
Sean Phoenix, K-Cling, & Nick Genesis defeated Flex Magnum, Daniel Modem,& Andrew D. Dawson
Angel Rose defeated Chris Jones to unify the ICW Women's and You Tube Champions, after the match she asked to have both belts scrapped and new hardcore style Championship be made in honor of Rusty Brooks, The ICW Hardknocks Championship!
The Scum of the Earth defeated Mr. Vega and Vinny Ramaguchi
Jack Zero defeated TC Reid in the Mask VS Hair match. TC Reid had to unmask after the match, Jack Zero stole the mask.
Big Daddy Gonzo defeated Bobby Rogers in the X-Treme X-Mas Tree Match after a melee of weapons were used and even some of the wrestlers from backstage came out to attack Bobby Rogers.
The Rude Awakening defeated Team Joker. With Mykal Manix being the last man eliminated from Team Joker. Prior to the match a rulling was made that if Team Joker would loose Joker would be suspended. ICW Champiom Jordan Rayner and ICW Pure X Crown Champion Maxx Stardom were the sole survivors for The Rude Awakening.
A match between Jordan Rayner and Mykal Manix has been announced for Battle Rumble, this will be the first time Mykal Manix challenges for the ICW Championship.