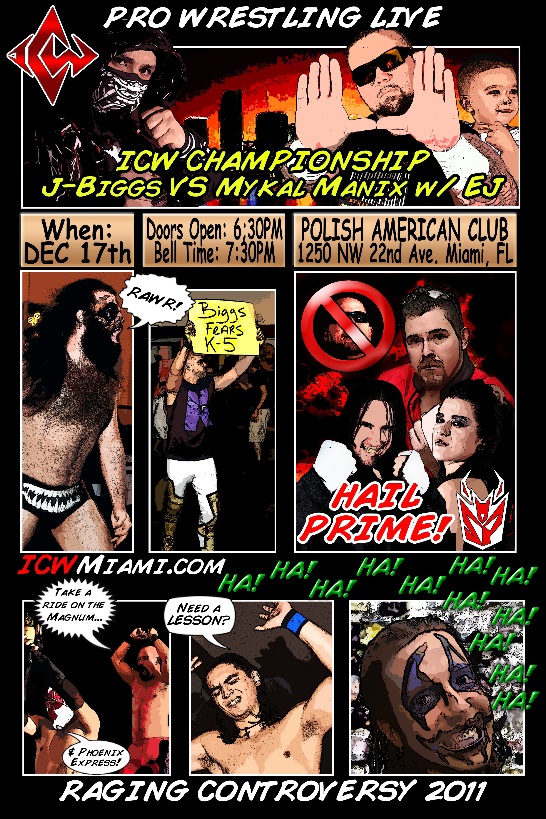 K5 retained the ICW United States Tag Team Championships after defeating The TECH Squad
Angel Rose put her feet on the ropes and beat Calypso
Dash Maverick confronted Angel Rose after the match and gave her the Dash.K.O. as a message to Shawn Prime.
Dash Maverick defeated MDK after the Golden Sheik created an impromptu match.
Sean Allen was felled by J.B. Cool after assistance from Santa Clause
Santa revealed himself to be Mykal Manix and Sean Allen was attacked by Maxx Stardom popping out of a gift box. Gonzo then reluctantly re-hired Maxx Stardom
Beast wins against Jack Zero due to a disqualification. Jack Zero retains Pure X Title.
Sean Phoenix and Flex Magnum won the number one contendership for the ICW U.S. Tag Titles after the Syndicate placed Phoenix on top of Teddy Kahn for the pin.
Speedy defeated Teddy Kahn in a last man standing match.
After the match Dash Maverick held Speedy and Sheik hostage until he got his match against Prime.
The Following match was a fatal four way elimination for the number one contendership for the ICW Heavyweight title. Adrian Marx was eliminated by Vega. Vega was eliminated by fellow K-5 member K-Kling. Joker was eliminated by K-Kling. After the match it was revealed that the Joker that was pinned was actually Jack Zero in disguise. Joker was under the ring. After the match Adrian Marx and Jack Zero dragged out and attacked Joker. Jack Zero then hit Marx with the Ground Zero.
Tommy Vandal defended his FOW Championship against Justin Sane.
Mykal Manix vs. J-Biggs ended with J-Biggs retaining the ICW Heavyweight title.
Next event will be K-Kling vs J-Biggs
And the main event of the 30-person Battle Rumble.