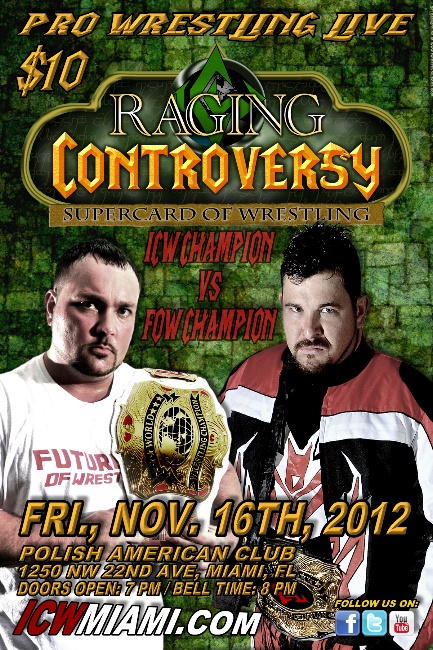 Match 1: The M&P Express defeated the team of Teddy Khan and the returning Skull Mussolini
Match 2: J-Dawg Brooks retained the ICW Hard Knocks Championship in a Falls Count Anywhere Triple Threat Match against TC Read & Angel Rose. Brooks was covered in blood during the match. J-Dawg Brooks powerbombed TC Read from the apron of the ring to the outside onto a stack of open chairs. Brooks pinned TC afterwards as Angel Rose's leg was trapped on the top rope.
Match 3: K-Cling defeated Andrew D. Dawson to retain the ICW Pure X Crown Championship.
Match 4: Maxx Stardom defeated Aron Agony & Ernest R. Alexander III in one of the most intense high flying matches in ICW history. This match was full of action that garnered many ICW and Holy Fecal chants from the crowd.
Match 5: The Battle of the Titans between Jordan Rayner and Barrington Hughes ended in a Double Count Out as both men fought all over the outside of the ring. A rematch has been set for the December 8th FOW event (The Original Hardcore Holiday), this time there must be a winner and the looser will Leave FOW.
Match 6: Dash Maverick pulled out a victory over Jesse Neal. While the referee was distractred Maverick smacked Neal in the face with the sledge hammer knocking out the former TNA star.
Match 7: The TradeMarX defeated The Sin City Sex Bombs to retain the ICW United States Tag Team Championship. Adrian MarX injured his ankle during the bout.
Match 8: The Biggest Main Event in ICW History! The ICW Champion VS The FOW Champion. Shawn Prime VS "Thee" Sean Allen. Prime was managed by Allen's former manager Abudadein. Allen was managed by FOW Chief Executive Chuck Aurin. This was the most intense hard fought match in ICW's History! Blood shed by both competitors showed how tought this match was. Allen and Prime's hatred towards one another was shown as they battled all around the ringside area. In the end three referees were knocked out including Chuck Aurin, and Dash Maverick stuck his nose where it didn't belong costing the ICW Champion his championship. "Thee" Sean Allen is now the first ever ICW / FOW Champion!