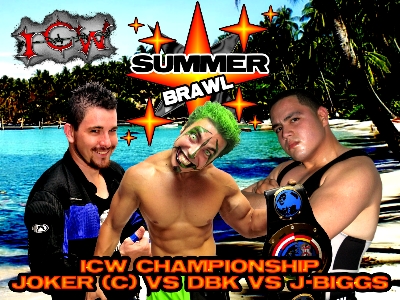 Over 365 fans joined ICW at the Doral Park Country Club for the first ever installment of Summer Brawl!
Pre Show Matches:
Stud Magnum defeated Calypso with help from Bling David Diamond to retain the ICW Intergender Championship
Q-ba Libre defeated Gary Thunder
The Network defeated Sean Phoenix & Evan Sky to retain the ICW United States Tag Team Championships
Joker defeated K-Cling be DQ after Jack the Ripper interfered
Summer Brawl matches:
Beast & The Dirty White Boy defeated The Midnight Studs
Reverend BB Brown and The Preacher Troy Taylor defeated The Trademarks
Big Daddy Gonzo defeated Mutilator after K-Cling and Jack the Ripper interfered
Stud Magnum defeated Angel Rose with help from Bling David Diamond to retain the ICW Intergender Championship. After the match Magnum and Diamond attacked Rose. Calypso came out and laid both Magnum and Diamond out and Summer Brawl went to intermission with Angel Rose and Calypso standing tall over the Rude Awakening.
Hitman Machine defeated Jordan Rayner to become # 1 Contender. During Hitman's entrance he let everyone know that he was alligned with K-Cling and Jack the Ripper
J-Dawg Brooks defeated Arson Blaze to retain the ICW Pure X Crown Championship
After the match Rude Awakening leader Skorpio came out and asked Arson Blaze and his valet Allison Spade to drop their colors and begin wearing the Red and Black of the Rude Awakening. After much deliberation Blaze and Spade accepted the offer and joined Skorpio's Rude Awakening.
Dash Maverick and Mr. Vega defeated The Network to receive a shot at the ICW US Tag Team Championships at Road to Ruin 2009.
Joker defeated J-Biggs and the Dirt Bike Kid in a three way dance to retain the ICW Championship.
Dirt Bike Kid once again said goodbye to his fans. The ICW Family will miss DBK for all the hard work he put into this company!